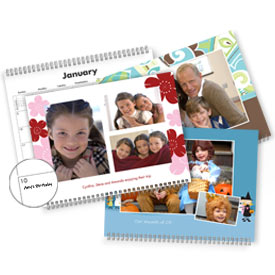 Shutterfly has calendars on sale, buy one get one half off, until the 5th.
These make AMAZING gifts. I gave one to my mom one year and it got oohed and aahed over all night. I'm giving some to the great-grandparents this year. Not only can you customize each month with a picture but you can put pictures ON the specific date of someone's birthday. Since I'm hyper organized I put each persons picture on the calendar month. This option frees me up...well okay, I'm still doing January pictures for January....BUT if I don't want to I don't have to. And that's good enough.
Also use code: AF69-SAVE to save $5 off $30
If it's your first order you'll get free shipping and 50 free prints.